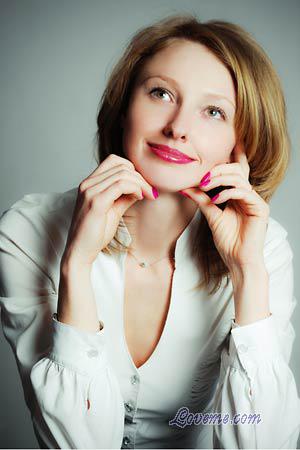 120884
Natalia
Ukraine
City: Mariupol
Age: 33
Birth Date: 8/22/1978
Weight: 117lb, 53kg
Height: 5'8", 173cm
Measurements:
Measurements cm:
Measurements: 0-0-0
Eye Color: Green
Hair Color: Blonde
Marital Status: Divorced
Children: 1
Religion: Christian
Smoker: N
Drinker: S
Education: College
Company: Private
Job Title: Operator
Sports:
Hobbies: Sports, travelling, painting, art, music, theatre, movies


Self Description: Personís eyes can tell a lot, sometimes we even donít need words, I hope that looking into my eyes will also tell you a lot about me. I am sensitive and tender, romantic and affectionate. My personality is friendly, positive, life loving and caring. I am loyal to others, can listen and hear people. To my mind, it is a big pleasure to enjoy this life, to smile and to see smiles of others. For me the compromise and open conversation is the best solution. I was told that I have a good sense of humor. At the same time I know how to be serious and purposeful in life. I am the one who likes learning and creating. I enjoy active time and at the same time I find pleasure also in cozy home environment. There are so many interesting things in this world, so I am curious to learn and to discover.

Comments: The best and most beautiful things in the world cannot be seen or even touched. They must be felt with the heart. I want to make my chosen one happy and will do everything in my power to make it happen. I want to fall in love with a man that will make my heart beat faster and my soul sing. If you are strong, smart, intelligent, you are my other half. I donít care what you look like as long as you are ready to accept and love me for who I am. My heart is open for love and new experiences.